The Salutation closed in December 2011 and has been boarded up for a year. I'm Malcolm. I'm an engineer and have bought the Salutation to make into a home. I don't want to run it as a pub myself but I'm keen to make sure I don't do anything to stop it from being a pub again in the future (apart from not buying the car park – it has planning permission for a house which makes the land too expensive).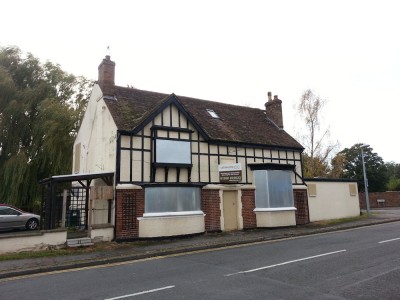 I plan to move into the upstairs in January 2013 (timing might be weather dependant) and will take the shuttering off and tidy up the outside a little. I can't do a lot more until I have planning permission which should come in April or May 2013. I bought some of the car park to the side of the building and that will eventually become my driveway. The remainder of the car park is still for sale with planning permission to build a house.
The restoration will be sympathetic to the building. I'm keeping the bar and as many interior features as I can. The exterior will be freshened up but the style will remain the same.
The Salutation has a long history as a pub and still smells of beer. Colin's Blunham Pubs webpage has some History of the Salutation
I'll update this page with plans for the conversion when I have them.