All of the windows in the front of the house are leaded and the slightly different angles of the glass reflect light in a wonderfully faceted way outside.  They all match, and they are all 105 years old.  How mad is that in this day and age for a window to last for over 100 years?
I've mentioned some issues with the upstairs bay window.  Due mostly to ill treatment and lack of maintenance the rot is only held together with paint and there isn't enough wood left to save.  But I'm not going to be the one to get rid of the windows.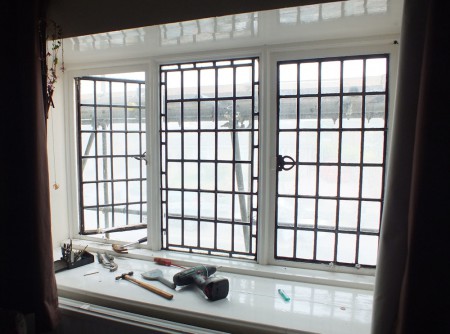 Some maintenance is necessary though. The opening windows at either side were made by Crittall and are steel framed.  They were screwed to the wood frame by 2 screws through each edge of the frame plus several more screws all around holding a spacer bar.  We'll need to add secondary glazing for building regs as they aren't great thermally.
All of the glass needs to come out of the frames for maintenance.   I have been advised to stick some ply to the glass with silicone sealant to support the leaded light when it is removed from it's frame.   However the leaded glass repair guy has suggested next time I want to get windows out I should get him to do it.  Presumably there is a better way.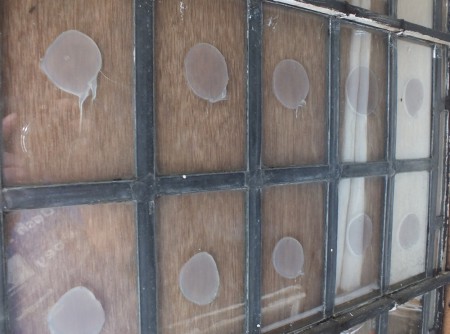 Only the bottom of one of the opening windows has any real damage to the metal frame.   Condensation running down the inside of the glass has rotted the frame and caused the glass to push outwards and upwards.  The lead will need a little repair but I think the metal frame might be OK.  Condensation won't be a problem again with secondary glazing.
I think there were once similar opening Crittall windows on each side of the big bays.  Those have since been replaced with plain glass with stick-on lead.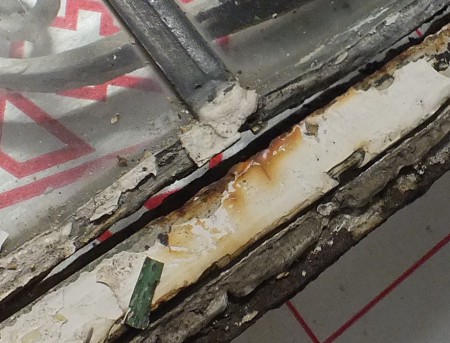 More later!   My cousin John will be making a new wooden window frame to match the original profile together with a new bay to put it in.  My job is to fix the Crittall windows and send him some dimensions. More likely I'll sub out the fixing of windows and get back to pointing.
With the windows removed and some of the frame fallen off the window is not at it's best.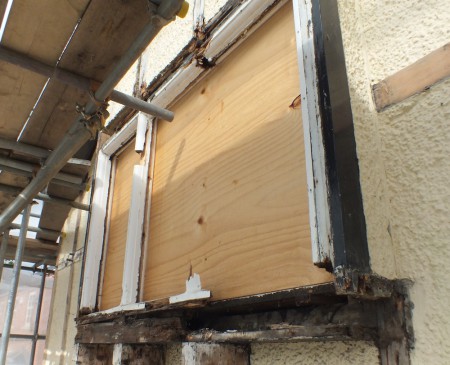 I've taken a section from the bit that fell out to send to John who will try to make the new frame look similar,