Quite a few of the walls have been painted in the past.  There are at least 5 layers of paint, and the top 3 are modern plasticy waterproof paints.
Waterproofing a brick wall is probably a fabulous idea so long as the paint finish is perfectly applied and then never damaged.  In the real world you miss a bit, then want to screw a light on the wall and nail a few wiring clips in.  Also it starts failing after a couple of years with weather and sunshine.  Water gets in and can't get out so the bricks and mortar are damaged by frost. It isn't sensible to re-point lime mortar on top of waterproof paint.
Worse, in the modern world people dry line the inside of the wall and fit insulation.  Imperfectly waterproofing both sides of the wall would cause all sorts of trouble, yet that's exactly what building regs want me to do in order to insulate to the latest regs.  I'm going to be bad and make both sides of the wall breathable.  So I need to remove the waterproof paint.  Here is work in progress: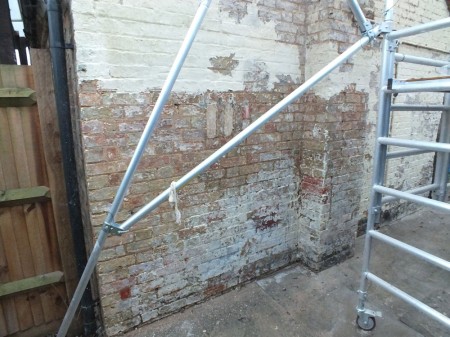 What a pain!  I did some tests last year and decided on Solvistrip from Stippers of Sudbury.   It works well on my masonry paint but is slow work.  The trick is to trowel it on as thickly as possible with a paint brush, then brush the drips flat after about half an hour,  Never let the outside face of stripper dry out – it always needs visible stripper on the outside else you will be trying to get rid of sticky gum.
After an hour or two gently remove it with a jet washer, taking care not to point the jet washer towards anything you don't want to be splattered with paint.  Point the pressure washer at a slight angle downwards and work down and the paint is pushed off towards the ground.   I don't think a hot water pressure washer is necessary, though it would probably be much faster and reduce the number of stripper applications.
It comes off without too much effort (too much effort with a jet washer will take the surface off the bricks), but only removes a few coats at a time. I'm getting better at it and removing it in 2 applications.
I've been on the job for 4 days now, but only recently found a way of doing it that works for me.  More stripper on order and another 4 days should see the gable done.  Once that is done I can start rebuilding the chimney which has a triffid growing out of it.
Never again for paint stripping – I got someone in to do the rest of the house.