The roofers have stripped the front of the roof so there is plenty of light in the roof space for photos.   I've being trying to date different parts of the building.
You can see the evolution of the building from inside the attic.  To the left on both sides of the chimney is the top of the gable end timber frame of what we assume is the original building first noted in 1646.  I think 1640s would be the Jacobean period, the one just before Cromwell.  The wood is tree shape rather than cut like modern wood and has since been in filled with brick.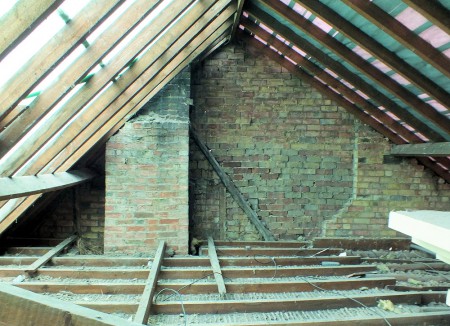 To the right of the timber frame the lower, darker bricks are from the original low roof extension, and the upper bricks and purlin support were built in 1910 when the roof was raised to it's current height.
Here is a blurry photo from the 1950s.  You can see the form of the original building to the right of the gable, and the change in brick shade between the two extensions.   You can also see a chimney to the rear of the house which isn't there any more.  There is still evidence of the chimney removal in the roof timbers.
The chimney closest to the photo looks slightly ghosted above the roof line.  That's not a photographic effect – the top of the chimney had been rebuilt with slightly lighter bricks.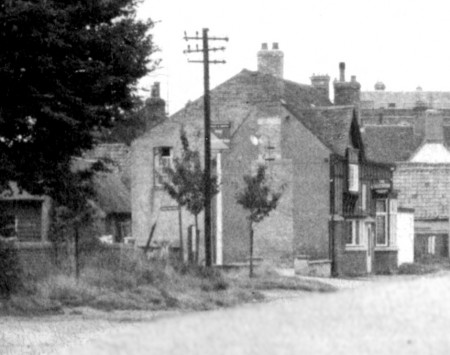 The ceiling joists are interesting.   With their ends sitting on the spine wall, the joists to the bottom of the photo are nice Edwardian ones that you can stand on.  The ones to the top of the photo are made from bits of tree again and are part of the early low roof extension.
I had assumed the extension was built somewhere between 1800 and 1850.  The timbers suggest the cost saving was not only in the lack of foundations, but combined with the thin glazing bars on the last original sash window I'm now guessing the extension is closer to 1800 which makes it Georgian!  Makes sense as the later Victorians were better at building.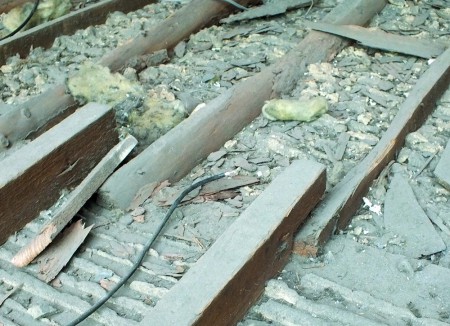 The front of the house (Edwardian) has a structural timber frame with brick infill.  The bricks are hand made and what I had assumed was grey cement mortar turns out to be lime covered in loft dust. I think the render outside might be lime, but it is coated in waterproof paint which can't be removed without damaging the render.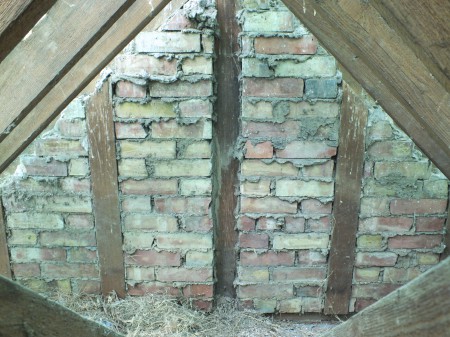 I'm learning that I'm not very good at dating buildings, but it is fun to see the different phases.  Dating is made easier by the almost complete rebuild in 1910.  Anything done to a decent standard is Edwardian.  The shonky stuff in lime is earlier, and the shonky stuff in cement is later.