I had the idea of rendering the exterior and plastering the interior of the oriel window at the same time because I was using the same lime mix for both.  This was a bad idea – making the exterior watertight before messing with the interior would have been more sensible.
The oak window sill (needed to go in before plastering) was made by Cardington Joinery and is marvellous.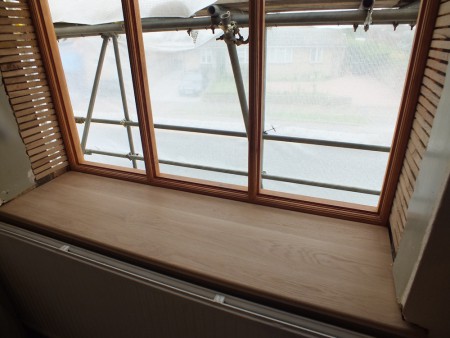 The timber above the oriel window was originally in-filled with brick then roughcast rendered (in a very early use of portland cement – yuk).  I wanted to reduce the weight of the window because the lintel over the window below has a pronounced bend.  Woodwool board would have been an ideal infill but it isn't widely available and delivery would have cost £100 for the £6 sheet I needed, so I went for lath.
In hindsight the span is slightly too long for lath and it bent when the wet lime render was applied.  Then it sprung back as it dried so I might end up with a feature bulge.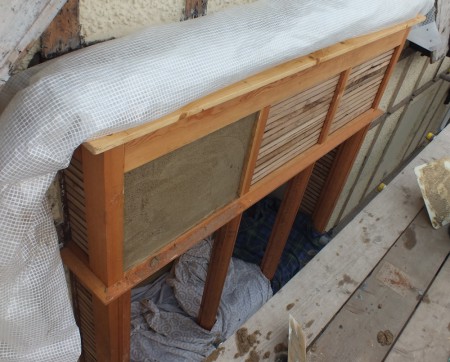 It didn't go well.  The lime failed to set and after a week was soft and crumbly.  I suspect I let it dry too quickly, or it is possible the mix or some component was wrong.  Whichever It needs to come off and be done again and I'll experiment first to make sure I have sorted the problem,
Plan B is back to the original plan using wood wool board.  I only needed small sections and used offcuts pulled from Anna's skip.  Thanks Anna.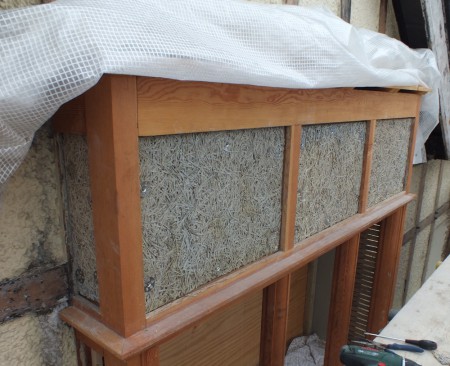 The lime failure turned out to be my fault.  The plastering sand is washed so is poorly graded and needed about 1:1.25 lime to sand compared to the 1:2.5 ratio I tend to use for mortar.
The new render was much stickier than the old, and the wood wool board turned out to be very much easier to render than lath to the point where I hardly dropped any plaster when doing the ceiling.   The first coat went on nice and flat and will dry (and be wetted) for a week before the finishing coat.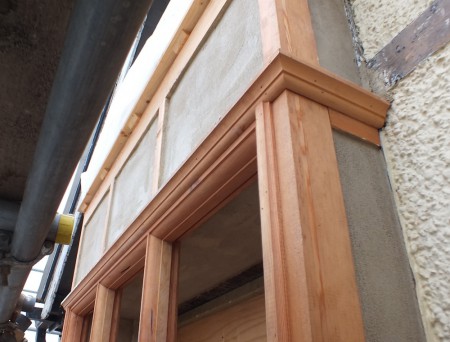 Next job will be fitting the windows.  But I can't do that yet as I need access to tend the lime plaster inside.   Next job might be getting ready for the limewash and paint on the front as that needs to be done in the summer but it is already Autumn.