I've spent a week on the front of the house getting it ready for paint.  So far I've finished stripping the modern gloss paint from the wood and mostly sanded it, applied the final coat of render to the oriel window, and made a small repair to the timber frame just above the middle of the window.  The old timber was chiselled out at an angle so water doesn't run into the joint.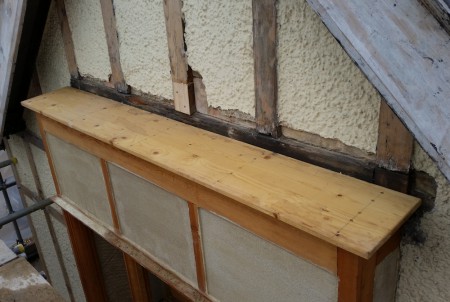 Gaps in the timber have been filled with linseed putty. The frame is far from perfect, but is generally sound. The wood will be finished in Linseed oil paint which doesn't crack in the sun and is breathable unlike the modern gloss on the downstairs windows which needs stripping and repainting after only 2 years.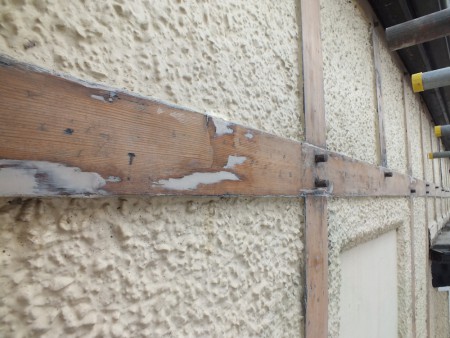 After 4 months boarded up the windows are just about back in place in the oriel window.  I used linseed putty which turns out to be easier than modern stuff when you get the hang of it, but time consuming to apply.  The glass looks very much older than 105 years, but I suppose that was the original intention.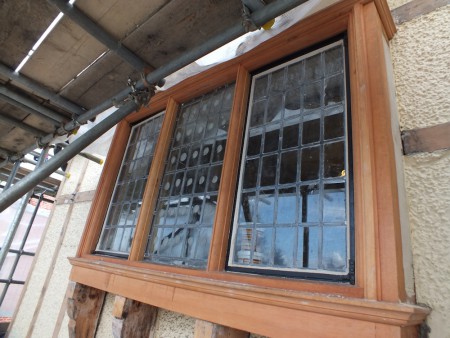 There used to be a big hole in the sole plate of the timber frame.  I think the pegs rot out, water gets into the peg hole, then after further years of neglect the frame rots.  For that reason I've replaced all of the broken pegs.   A piece of Edwardian softwood recovered from the attic made a perfect repair.  Angling the bottom and knocking it into place should provide good support for the post.
The silicone sealant between the frame and the plinth didn't do the frame any good.   I've scraped out the damp loose stuff and filled the gap with lime mortar which should allow it to dry out.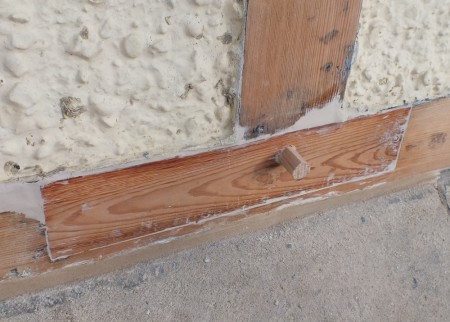 All of the various gaps have been filled with lime on the infill panels and linseed putty on the frame.  The strategy is to use breathable materials to keep the frame dry, and use them to seal gaps to keep water out in the first place.  The first coat of limewash will go on soon.