We didn't get to speak to the Conservation Officer in the end, but the Planning Department seemed generally happy about our application so we've updated the plans with their recommendations, had the dates changed on the various surveys, and have put in a proper planning application.
It was helpful to have the extra time to think about the design – the pitched roof replacing the flat roof looks much prettier, the barn/function room will now be a medieval banqueting hall instead of a garage, and Kae has grabbed some extra space for the kitchen.  I'll post plans on here when they are scanned.
Meanwhile I've been busy on the exterior woodwork.  The windows were painted with modern paint – you can tell because the finish has cracked.    I want to paint the windows that we aren't going to replace before the winter.  They are in a state and are taking a lot of time to prepare, but the wood is still reasonably sound.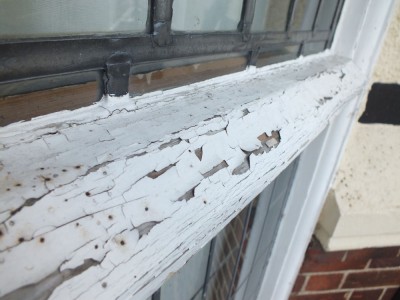 I've been putting this window off – it's the big one at the front where the double height room used to be.  It's 10 feet wide by 7 feet high and is fiddly.  (For metric conversion see how small the front door is by comparison.)  The bank holiday weekend should hopefully have it finished.