I've been insulating again, this time in the crawl space in front of the attic.   I haven't been enjoying it so it has taken a very long time while I have found lots of ways to avoid doing it.
The attic is supported by 8 inch joists below which hangs a domed ceiling with lath nailed on to wooden supports with a curve cut into them. It's not often you see a domed ceiling from above so here is a photo..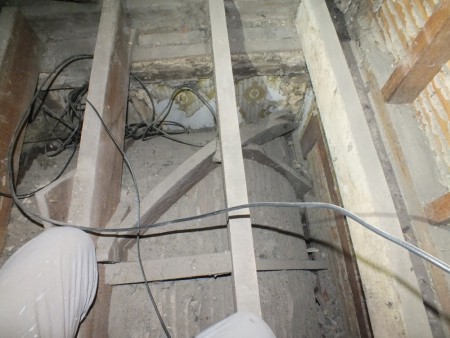 The attic and domed ceiling were constructed in 1910.  The room that was there before is still there in parts with a wide bricked up doorway and Victorian looking wall paper. I'm not sure what the layout was before 1910, but the extent of wallpaper suggests this area might once have been a corridor.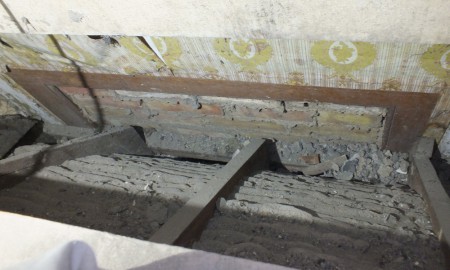 The ceiling underneath has been vandalised by plumbers and electricians over the years but is remarkably intact with it's original wood mouldings.   A false ceiling was added below, probably in the 1950s or early 1960s.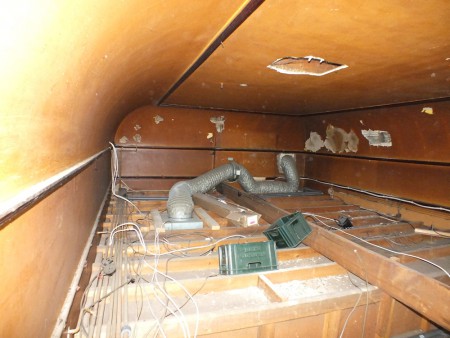 I had been wondering why the false ceiling was added.  It would have been a pain to redecorate without a scaffold tower, but it turns out the thermal design was terrible with a huge area of lath and plaster forming the only thermal barrier between inside and outside.  It must have been a bit chilly in there.
I have a scaffold tower and have added insulation up to 1m thick in places which should hopefully sort out the thermal issues.  I think a domed double height ceiling would be nice.