Who would have thought the parquet in the last post would ever look like this? – and it's not even finished yet!   Callum Finlay spent a day using an edge sander to get all the new blocks to the same height as the rest of the floor.  The photo shows the subsequent rough sanding using a belt sander.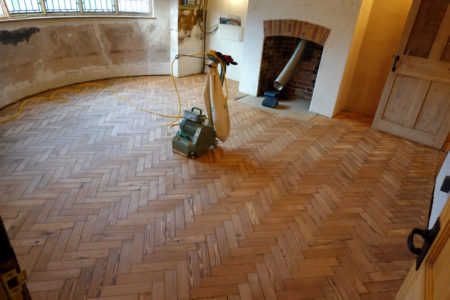 I'm amazed at how little material was removed and that the new bits match.  The levelling will allow me to fit the skirting, then once I've finished decorating Callum will come back to do the fine sanding and finishing and make it look all posh.
For the rest of the year I'll be… er… oops.  Next year things should be more settled and I want to get back on the case with the restoration and make more things more beautiful.