It's only been a month since the last post and look at the difference! The side of the house we are working on has first fix electrics, the door frames are in and the internal stud walls have been plastered. The external walls have a base coat of lime plaster which is taking a very long time to dry in the cold weather, but hopefully will dry more quickly now the dehumidifier and heater are running.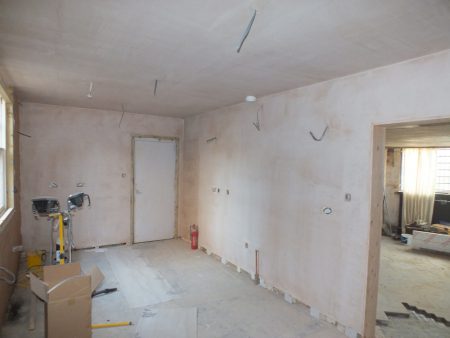 The snug next to the kitchen is a very old room that has survived largely intact with it's wattle & daub and it's inch thick straw plaster. Some damage was exposed when the wood panelling was removed, and some great chunks of cement fell out of the walls. The base coat of lime is drying and the walls have been prepared for a skim coat in lime. I want to paper the ceiling and walls with lining paper so they can be rescued again more easily in the future.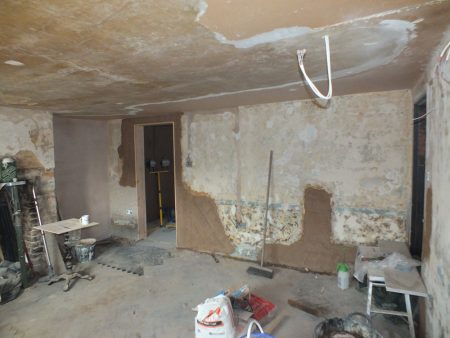 The sole plate in the internal wall of the snug turned out to be underground and therefore rotten. Normally sole plates are a good 15 inches above ground on brick plinths and therefore dry. I put this wall down to lazy Jacobean builders! The wall doesn't support much any more so we'll prop the posts up on bricks and remove the sole plate.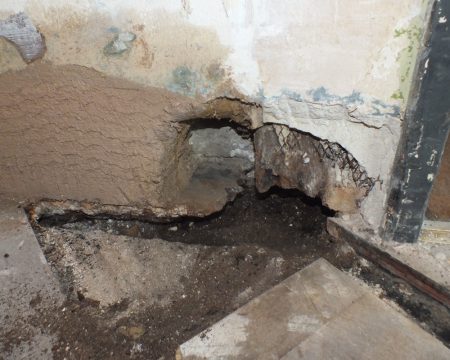 Meanwhile upstairs, the bedroom ceiling has been skimmed which neatly hides the artex, the bit that I put my foot through while insulating the loft, and the rotten bit that Rocco replaced with lath and lime.
The floor boards are up near the window because I wasn't convinced by the Edwardian approach to joist hanging. Modern joist hangers make the floor much less springy. It was also a good opportunity to finish off the plastering around the window – the scratch coat went on 2 years ago.