It's raining outside so I decided to demolish the bar.    It's a shame as a lot of effort and craftsmanship went into that, but it's in the middle of my dance floor and the parquet arives next week.
The bar had split the room into two corridors leaving an awkward space for the living room.    I missed the opportunity for a selfie in the photo. Too late now.  You'll have to imagine.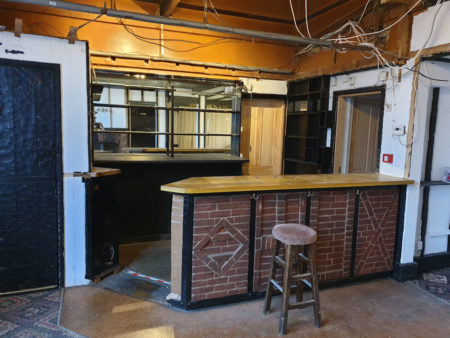 Removing the bar opened up and brightened the downstairs.   I found some history too.    On the right of the photo the brickwork at the end of the bar appears never to have been plastered, and the other walls have been replastered to the same level then just skimmed a little higher.  I think the room must have been wood panelled when it was built in 1920.
The dark blotch on the wall to the left indicates the location of the original entrance vestibule.  The wall also has outlines of the mouldings where they were painted around, so I have the shape of the original mouldings!   Also the colour of the original paint – a dark purple.   I had hoped to keep the current vestibule, but it is so tied in to the false ceiling I doubt it will survive the rest of the false ceiling removal.   I want to move the vestibule door to the other side too but plan to reuse the door as I think it is cool.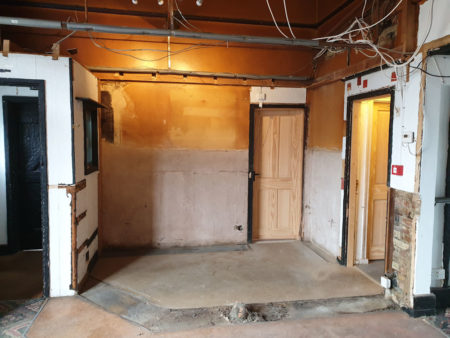 I very quickly missed the bar as it had been really useful for putting things on.   So I've built a new bar from solid oak bar using 52m2 of parquet flooring.   It took 3 hours just to stack the 1500 pieces so I imagine laying them might take even longer.   I was reluctant to use parquet after the 2 weeks it took to replace 6m2 in the snug, but it's a ballroom now so it needs parquet.   I refuse to be outdone by The Palace of Versailles!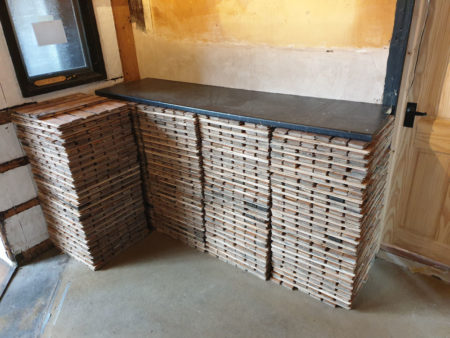 When it stops being rainy I'll update the window painting post below.