Being an old pub a lot of the wires were surface mounted making decoration difficult. Many of the wires ran above the false ceiling that was removed and now dangle in a rats nest of electrical wires and fire alarm cables.
I'm planning to start with the fire alarm system as that comprises half of my dangly wires and I've mostly figured out the routing. It's a good system that was very neatly surface mounted. I want to hide the wires in the floor voids.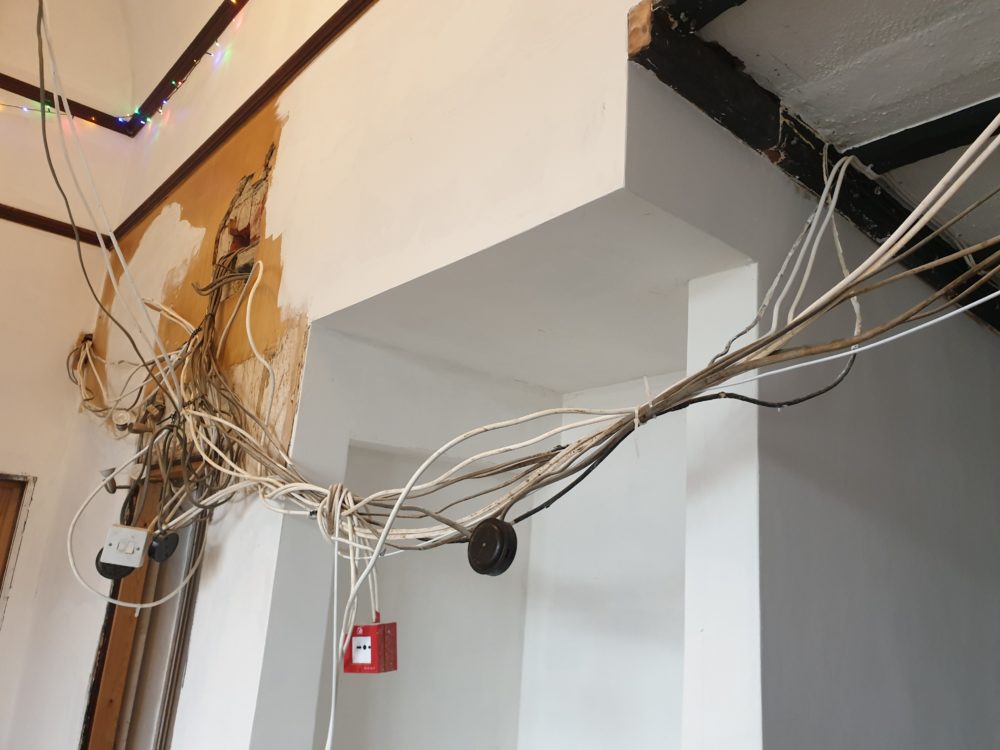 The fire alarm cables are fire resistant. That makes a lot of sense as the only time a fire alarm needs to work is when the house is on fire.
Fire resistant cable is expensive but I saved money on the cable dispenser. It worked really well. I rejected replacing the mains powered system with a wireless alarm because it's only 10 years old and there is nothing more annoying than having sensors beep at you when the batteries run out.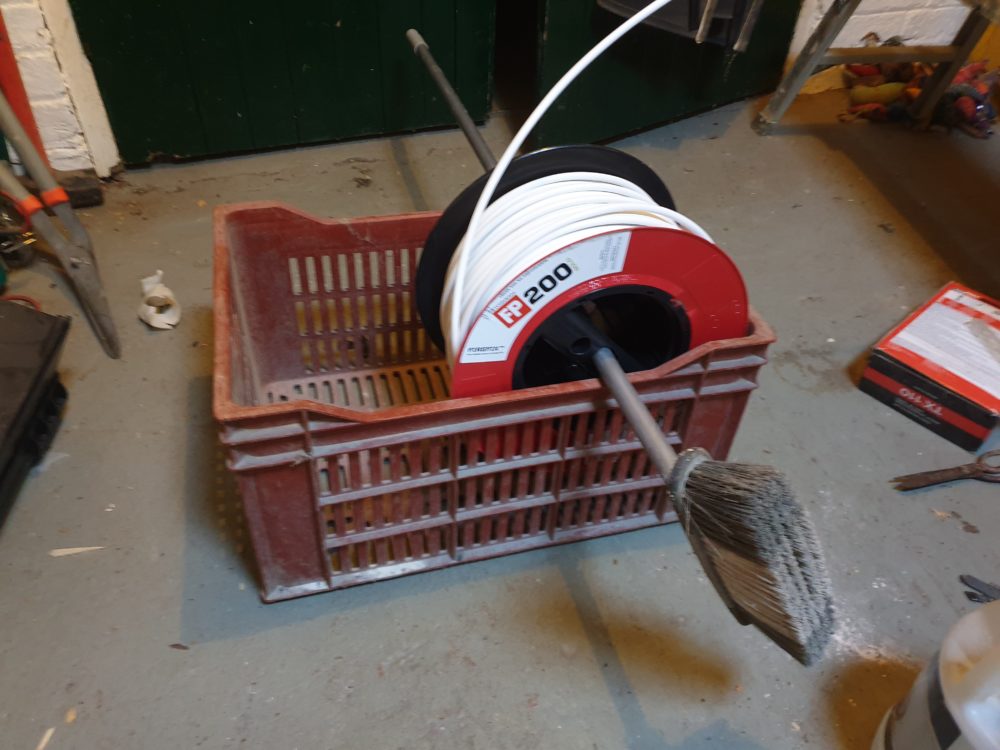 I might struggle to say anything interesting about moving wires from one place to another. With the house divided in two by the double height room and staircase the cables for both upstairs and downstairs alarm zones will have to go over the attic ceiling. That might be an angle.
I have lifted the insulation and put some temporary boarding in the loft space to make crawling around more comfortable. I'm using trunking in the loft to keep the wires tidy and away from the rockwool insulation. (This turns out to be bad – the cables should be clipped with metal clips throughout. It's all in a secret British Standard I don't want to pay for.) Where I can't do that the wires are screwed to a support above the joists to avoid being completely surrounded by insulation.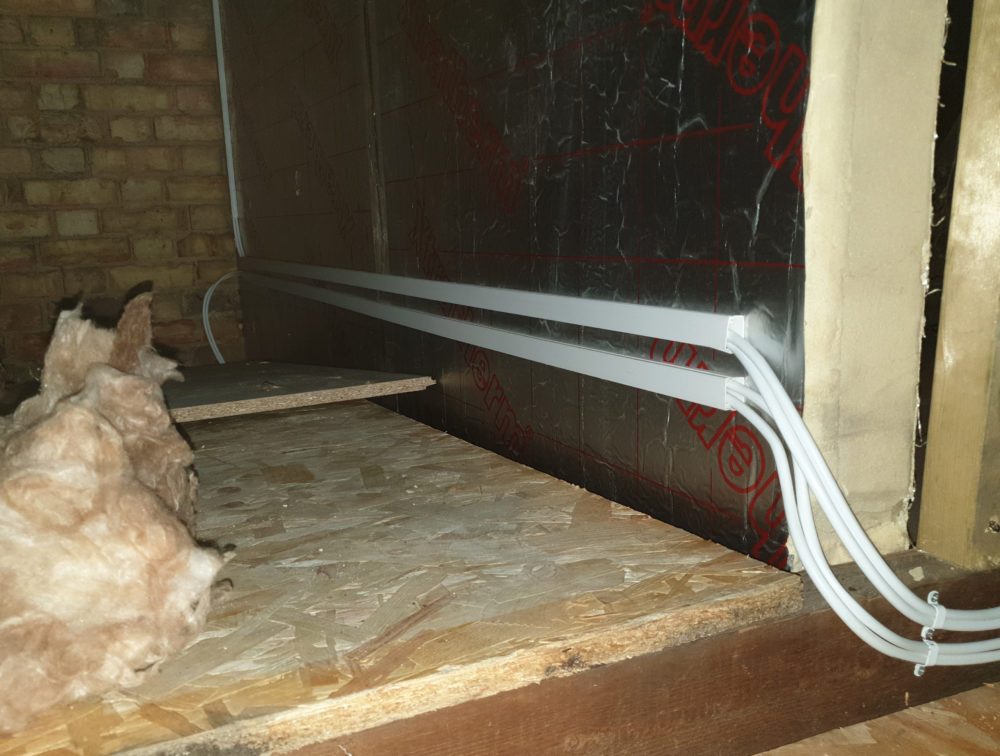 I've made it to first fix. The dangling wires in the first photo are much reduced and I'm tidying up the plaster before re-fitting the sounders and detectors.
The outer sheathing on fire alarm cable is very tough and I damaged the inner wire sheathing the first time I tried to strip it off. I've bought a Knipex Ergostrip stripper which was expensive for a bit of plastic but it works brilliantly on round cables and has more than paid for itself.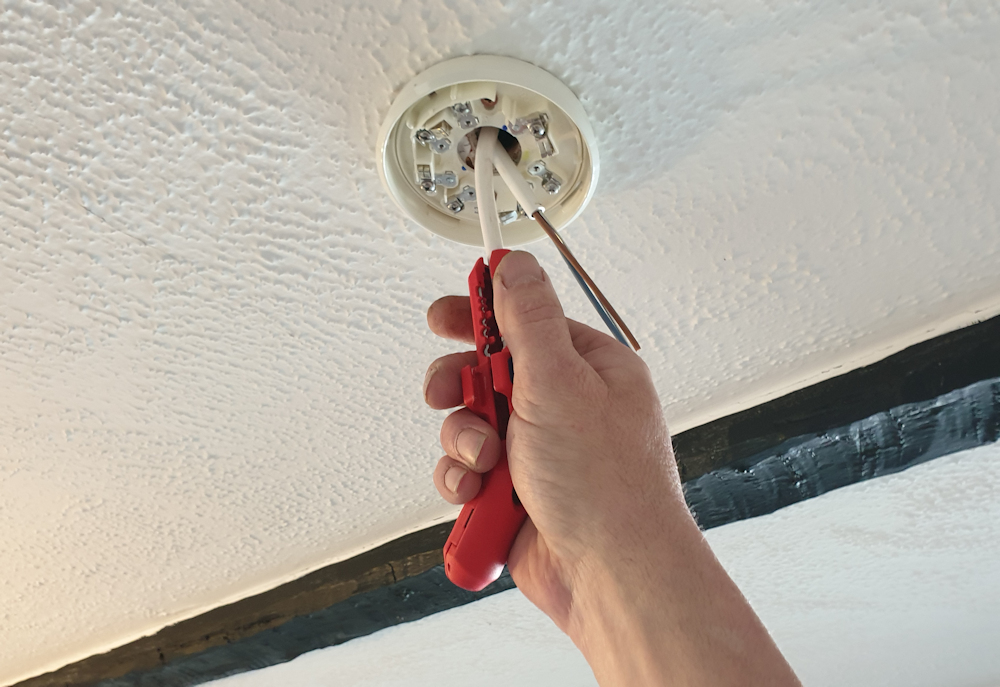 The detectors and sirens are mostly fitted. I haven't removed the ugly old surface mounted trunking from the upstairs corridor yet. I moved the sensor in the photo a little because symmetry is important as is joist location. Fire alarms are a bit ugly but surface mounted wiring is worse.
Once everything was finished I checked the wiring for faults then switched the system on and then tested it some more. It works!