The original kitchen is in a poor state.  The causes of damp included a badly leaking gutter, missing flashing, high external ground levels, a rotten window frame, leaky pipes, trouble with an external drain, and waterproof coatings inside and out.  I've fixed some of those things and the rest are on the to do list.
The modern short term thinking way to fix all of this damp is strip the plaster and replace with tanking plaster rather than fix the thing that caused the problem in the first place.  That is what had been done here and it was a pain to remove.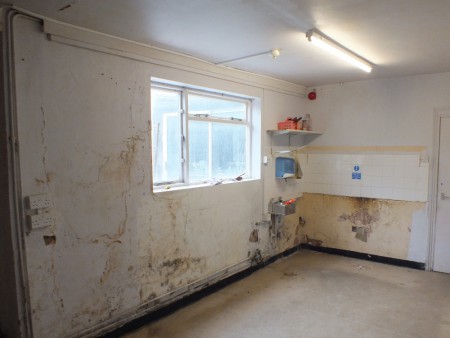 Digging a trench to lower the ground levels outside worked a treat.  Unfortunately I didn't go all the way to the end of the wall because there was a drain in the way.  I'll need to lower the drain before doing much with the kitchen as the wall is still wet at the base around there.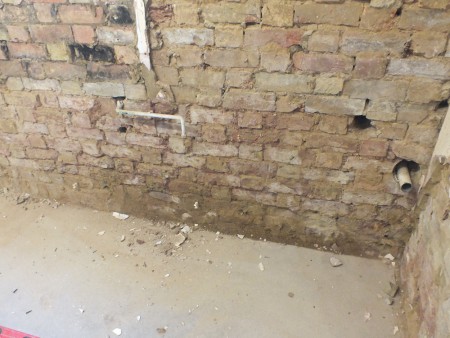 Fixing the damp patch won't be straightforward.   The drains have been botched and will need to be done properly with an inspection chamber.  As usual I've started off by digging a hole for myself.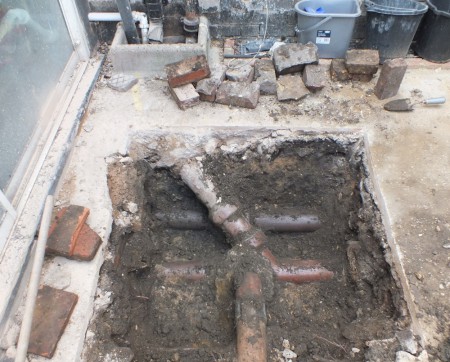 The internal wall of the kitchen is the external wall of the original building probably dating from the 17th century.  It is still there and remarkably well preserved with the wattle and daub and even a convenient door opening that someone, probably a Georgian judging by the decoration, hacked through.