Following on from the last bay window post.  It seems a bit mad to be restoring Crittal windows in a building that isn't listed and I don't have to.   The reason is I like the faceted effect of the leaded glass and don't want to replace it with double glazing.   I am under building regs instruction to improve thermal performance so will have to fit secondary glazing however I mount the leaded glass.
I've had the Crittall frames sandblasted.   BBS of Bedford did a super job.  Anyone planning to do this should first remove the handle first as it turns out to have brass fittings under the caked on paint.  The hinges are also brass.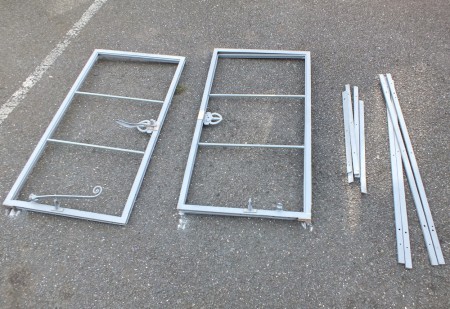 The windows have a fascinating construction.  The frames themselves are brazed together, then the brass hinges are screwed on, then the bars to the right of the photo which create a flat external mounting face screwed from the inside of the frame.
The frames weren't that bad – only the bottom rails were starting to get a bit thin in places.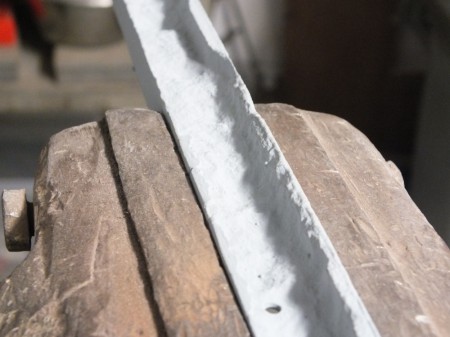 The frames from 1910 are mild steel so can be welded.  I built up the edges with MIG then ground down to create the original profile. I think the edges need to be welded as they will be sensitive to knocks, but everything else can be done in car bodyfiller.
I'm using Bilt Hamber Electrox primer which is 90% zinc by weight.  I keep nearly dropping the pot as it is unreasonably heavy.  It offers some cold galvanising protection which I have found to be very effective on previous car projects, but it does need the shot blasted surface to stick well.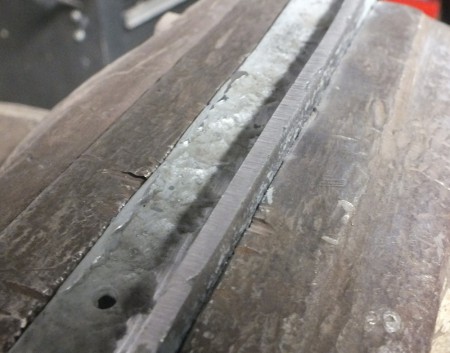 The screws holding the windows together are 1/4 inch Whitworth.I bought some old stock screws from eBay still sealed in 1945 packaging.   Some had become a little rusty but there were enough good ones for what I needed.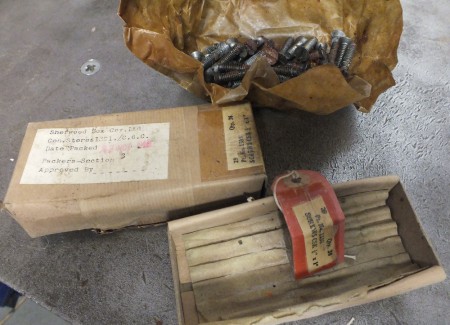 The leaded glass was rebuilt by Fraser of Tempsford Stained Glass who did a fantastic job.  Most of the edging needed to be replaced, a couple of glass panes were changed, and he soldered in some new wire ties to attach to the glazing bars.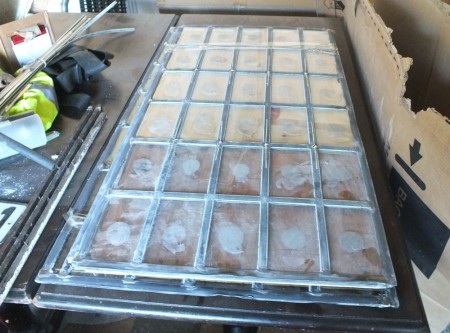 The frames and glass are going up to Sheffield and a replica wooden frame and bay window timbers will be built around them. (Because I liked the original frame profile too.)
The handles and catches are nice too, but I was missing one of each.  Rather than do any lime on the hottest July day on record I've started to make up some new ones. The handle isn't finished yet but I've done the tricky bit.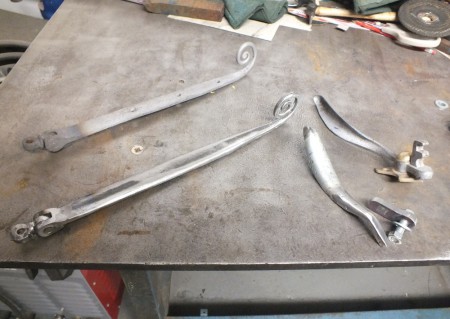 Later here is the (nearly) finished handle.   I'm quite pleased with it.