I've not posted for a while as I've been very busy with work, but Rocco is working on the kitchen and is doing a fabulous job.   It has moved on a lot since the last kitchen post.
I had thought to expose the 17th century oak frame in the kitchen, but the oven will now sit against that wall so we decided to protect the original timber frame with plasterboard.   Unblocking the bricked up door to the snug has allowed a lot of light into the dark end of the kitchen.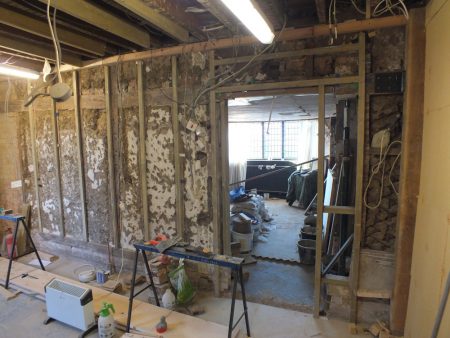 The internal wall insulation is almost complete.   I've gone for woodfibre board insulation and lime plaster to keep the external walls breathable.   The causes for most of the water ingress should now be fixed, but there is still no damp course so modern materials are out.
The ceiling has been levelled with some new bits of wood sistering the joists, mostly because correcting the slope allows space for the oven extractor duct.  None of the walls are vertical because the house is squint, but we've gone for straight walls which will be handy when we install a work surface.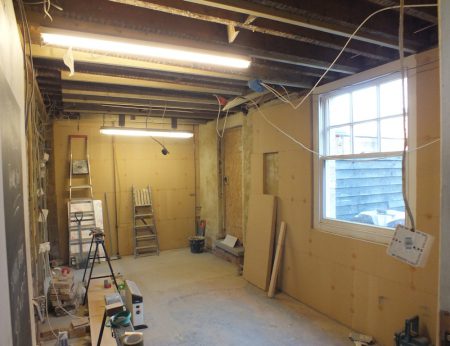 We are getting towards the fun bit where little features start to appear.   A yorkstone step in the door to the utility room went in this morning.   It looks a bit new at the moment but should look suitably old in a couple of hundred years.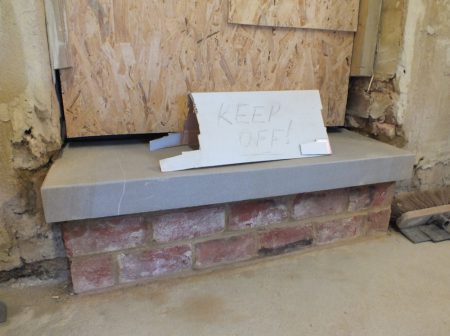 We are ready for the first fix electrical work next week (apart from me figuring out all the socket positions).   I've managed to organise a trip to Sweden next week, but will have a day with the electrician before I leave.