I made some holes in the attic walls to access the roof space, but it would be handy if the attic is habitable in about 3 weeks when some guests come to stay.
I ended up fitting normal doors and frames cut down to suit the openings.  The cost was slightly higher than the average eaves access door, but a normal looking door halfway up a wall is an interesting feature and it was a good opportunity to learn how to install door frames and doors.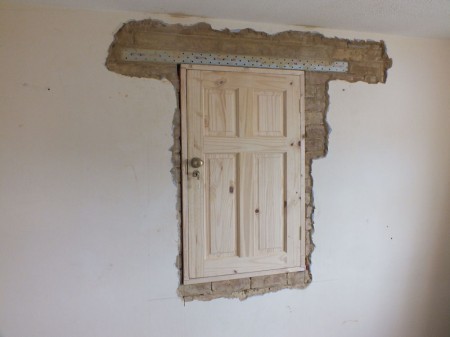 The trick with door frames is to cut them exactly square and size them about 2mm smaller than the hole in the wall.  Plastic spacers are available in bags of various sizes which are used to pack the frame at the corners and near the frame fixings.
The trick with doors is to buy an electric planer. I'm not planning to fit many doors so bought a really cheap planer at £34. Fitting the lock and hinges needs a very sharp chisel and wood drill bits.
The second door is in a stud wall.  I went for lath and plaster rather than plasterboard to match the existing construction.   It's quite therapeutic and much less dusty than cutting plasterboard.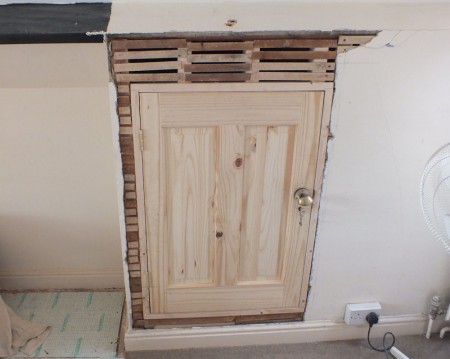 The spacing between the laths is important.  I spaced them a bit too widely in places and it was difficult to smooth the plaster.  I've used lime plaster to match the original.  This is the base coat and I've allowed 2mm or 3mm for the skim coat.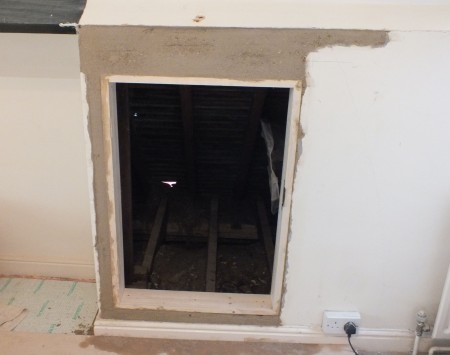 The finish coat started fairly badly, then I found out what a plastic float is for.  Once the plaster starts to dry the plastic float can be used to sand off the high spots and spread the plaster into the low spots.  Then a spray of water allows the plaster to be towelled flat.  Once the plaster has dried further a sponge float hides the imperfections and leaves a smooth finish.
You can take liberties with lime, to the point of working it the next day.  For DIY this is helpful as it reduces the need for any actual skill.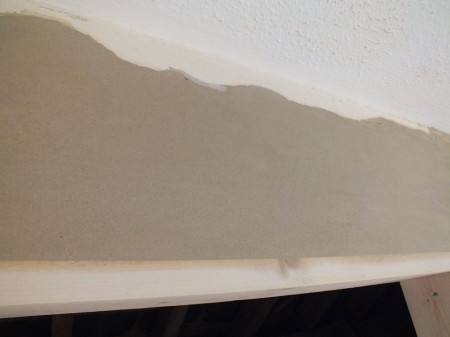 I'm quite pleased with my first attempt at plastering, but don't fancy tackling a whole room yet.
I fitted architrave around the doors and nosing at the bottom like a window.  The space behind will be useful for storage so I might fit some cupboards.   I wish I'd thought of that earlier as I've allowed 300mm for insulation below the door opening.  Still, I've figured out how to install doors now so the next one will be easier.