Not a lot seems to have happened this month – that's because I've been busy!   The office is now mostly cleared out and the snug is now an everything room.   I really like it and I'm surprised how much furniture I could get in there.   It never seemed that big.
The door and windows are completely stripped and just a little more prep needed before linseed paint.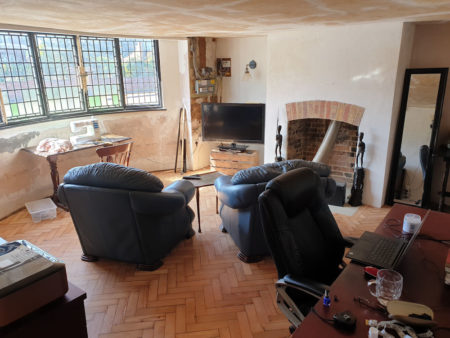 Most of the plumbing in the house has been removed, mostly so I could remove the rest of the false ceiling.    The 10 inch beam spanning the room would have been quite heavy so I propped it up on scaffold and cut it into manageable chunks.
The ceiling supports around the edges were cross nailed into the lath and plaster supports.   They didn't come out easily and there is more plastering to be done than it looks.
The walls are being a pain too.  They seem to have been re-plastered in the 1970s with cement and gypsum.  They have textured paint, then wallpaper, gloss paint, and finally lots of emulsion.   It is very time consuming to get back to the plaster so I'm thinking either a scabbler or just knock the whole lot off and try again.   It'll probably be a bit of both.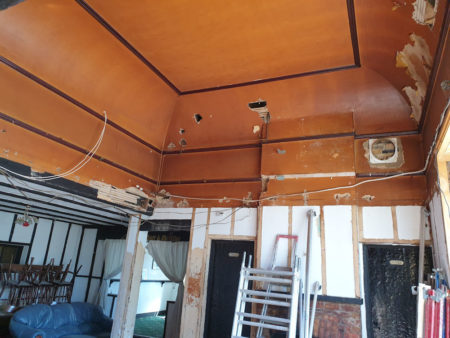 First fix electrics on that side of the house is loosely planned in a month or so.  I'm having a rest and taking a week to tidy and organise the living spaces and then should probably get busy getting ready.