Second fix electrics started today and is already more than half complete.   I'm excited to have lots of lights and switches and sockets in the kitchen now.   I forgot to buy bulbs!
After the lights went in I started fiddling around with kitchen layout again and moved the fridge for at least the third time.  I no longer need to incorporate an enormous American fridge freezer, so I have space for a table at the end if I can find somewhere else to put a normal fridge (represented by a cardboard box for now).   Mostly the lights are still in the right place.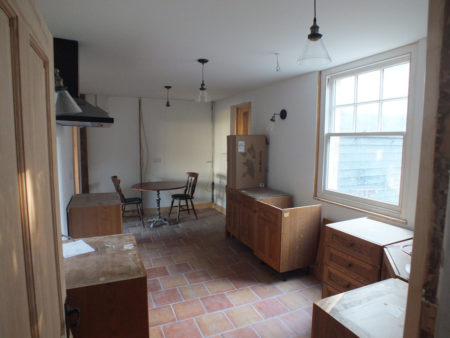 The new consumer unit is fitted, and will eventually be inside a nice cupboard with a shelf above.   The old one will have to remain until the rest of the house is rewired and the hole in the ceiling above it will  make decoration tricky.   Fortunately I have a floor to finish before I need to worry too much about that.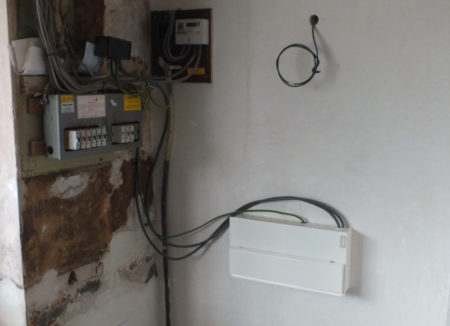 We haven't had much history for a while!  I changed my mind about a couple of light locations and pulled the bedroom floorboards up again.    This is the floor above the very bendy ancient ceiling in the snug with inch thick straw plaster.    The floorboards are up to 9 inches wide, and the beams near the chimney are 7 inches square.
The huge beams have been re-purposed from somewhere and I guess they were installed when the chimney was built.  The wiring is passing through handy mortise holes so the beams are on their side now, but previously they must once have been the middle beam in a 2 storey wall.   My first best guess was the chimney was added somewhere around the year 1700 based on the thin wide bricks and English bond brickwork, but the joists further into the room are neatly sawn 1.5 inches by 6 inches which would have needed more technology than they had in 1700 so I need to do more research!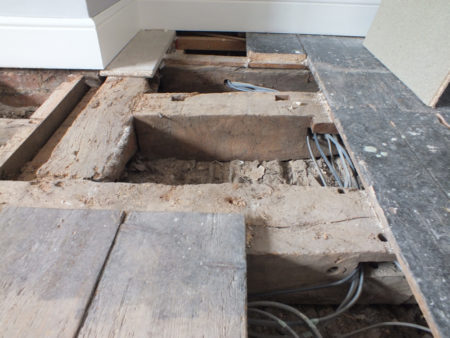 Some time later – the magic of electricity!   There is a light switch near every door, but I'm so used to having no lights I still stumble through the rooms in darkness.
I bought a bunch of random clearance LED bulbs really cheap from Screwfix and have been experimenting.  The light to the right is 2700K and the orange lights in the alcoves are 1800K.    I shall experiment some more once the room is decorated.