I've been putting off doing anything with the bay window in the main room, mostly because it is very big and will take ages.  The other reason is I'm trying to avoid taking another room out of action until some others are more finished.  The room was double height from the 1920s to the late 1970s when a false ceiling and mock tudor was applied inside.
The void above the ceiling can be seen here:   http://www.the-salutation.co.uk/blog/domed-lath-ceiling/  You can probably see where I'm going with this and with modern insulation and a scaffold tower for decorating it will look spectacular.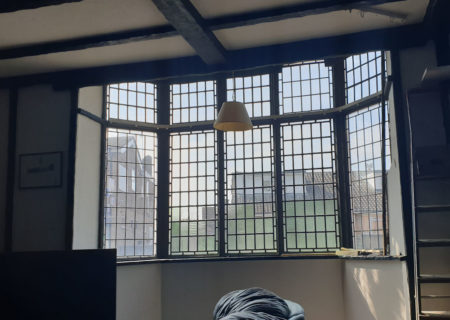 But I don't want to start on the main room before I've finished some of the other rooms.   I just want to secondary glaze the window as it was really cold in there last winter.
I've started off having a peek behind some of the mock Tudor and look what I've found – 1920s panelling!   This is going to be fun.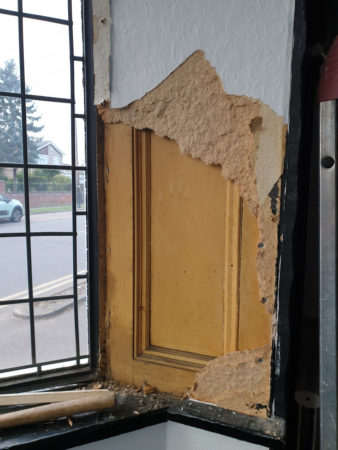 A bit of destruction later and it turns out the panelling extends above the window too. It has survived in remarkably good condition.   A couple of panels have been removed for access in the past, but it should be possible to make new panels and mouldings and restore the panelling.
You can see the scale of the window when there is someone in front of it on a scaffold tower.    The whole room is oversized.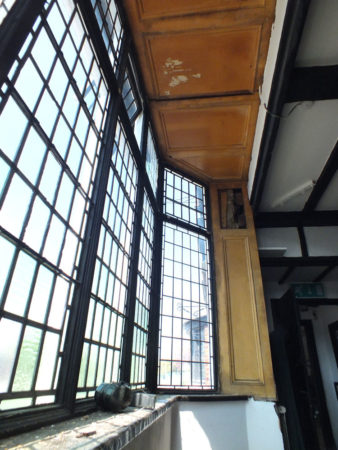 A false ceiling was largely supported by a bit of wood bolted to the 17C timber frame.   The holes in the top of the panelling provided access for that and I can't fit new panels until I remove the false ceiling.
The paint on the inside of the window was very thick and was getting in the way of my secondary glazing prototyping.   Removing the paint will take a couple of days, but the mouldings underneath are pretty.