The ceiling ended up with quite a lot of plaster and filler in the repairs and cracks.  As the filling neared the end the thing that took the most time and effort was moving the scaffold tower around.   It's been good exercise.
I finally measured the ceiling height – it's about 4.5m and quite awkward to access.   That probably explains why it has only had 2 coats of paint over the last 99 years.   The first coat was a purple-red which must have been very dark.  The second was an off-white which has become brown due to tobacco smoke.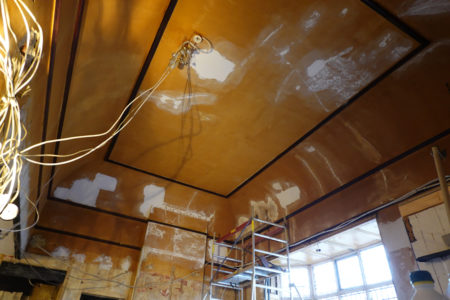 Finally a photo that isn't completely brown.  I've painted the centre panel with Earthborn clay paint.   I took the photo before covering up the last little bit just to show the coverage.   Two coats should be enough for the ceiling which is handy as around 30 moves of the scaffold tower will be required for each coat on the whole ceiling.
So far the repairs aren't noticeable through the paint.   But I have found a couple more cracks and a bit of lifting paint that I missed.   Overall it's looking pretty good so far.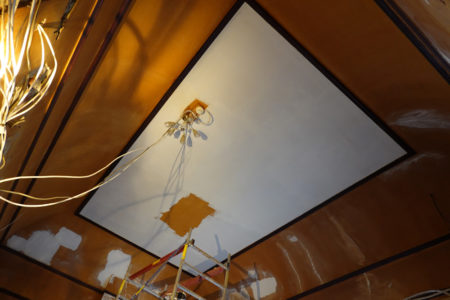 It's starting to look smart with the rest of the ceiling painted.   Some salts have come through from a bit of plaster that got wet before the roof was replaced.   It's dry now so a bit of primer should block the salts.
The white paint has changed the light in the room.  It is becoming much brighter in there.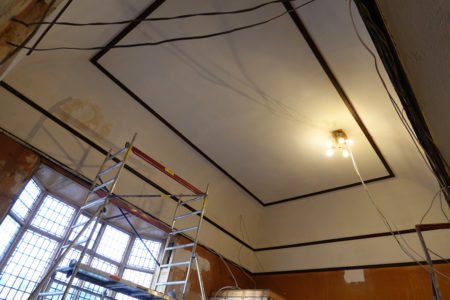 A bit of paint is quite motivating.  The plan is to repeat the process on the walls, but I'll likely do one or two walls at a time and then paint them for a sense of achievement rather than wait for all the walls to be finished.