I'm sweating away in the heatwave doing plaster repair in the snug.   There is not much to see in the photo – a lot of the snug was back to brickwork behind the 1960s ish wood paneling and the leak from the bay window took a bit more off.   I've patched that all back to level, but the Georgian plaster on the other walls is in poor condition having been messed with and will likely need a skim.
The ceiling is remarkable.   It has an inch of plaster with straw reinforcement.   It is probably the oldest and most bendy bit of plaster left exposed in the building so I'll not mess with it apart from filling in some of the larger gaps and then lots of lining paper.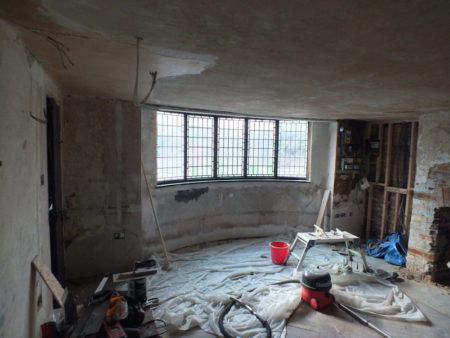 I ran out of lime plaster and took a break to paint the upstairs bedroom.  After the new plaster arrived I skimmed 2 walls and have a nice flat and smooth finish.  I used Ecomortar R50 ultra fine plaster – it is lime based with some additives to help it stick to different backgrounds and something to make it set in a couple of hours to avoid shrinkage cracking, but it still seems reasonably breathable.  Turns out to be a lot quicker to skim than to patch.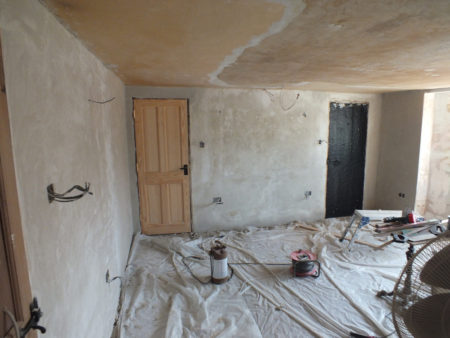 Working around the room the fireplace is next.   The original plaster was quite thick so the scratch coat will take a few days to dry before I can skim over the whole fireplace.  Next is figuring out how to plasterboard the stud wall with the electrics in the way.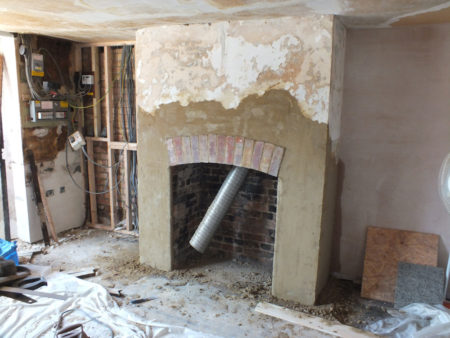 I know it's a month now since I started on the snug.  I get bored!  I went to Italy for a week, painted a bedroom, then started messing around with the parquet floor (more on that later).  I'll update soon when things get a bit more finished.